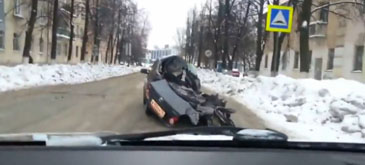 Smashed Toyota continues to move after collision with bus
With these injuries move unreal … the back seat was the corpse of friend driver!
Before that, the car crashed into a bus….The driver was drunk.
Nici vorba! In imaginile de mai jos asistam la un lucru uimitor insa cum in Rusia totul este posibil…
Pe scurt: un sofer rus si beat (serios?) a intrat in coliziune cu un autobuz insa a fugit de la fata locului. Masina este total distrusa, pe bancheta din spate zace corpul pasagerului care si-a pierdut viata in accident, insa asa cum puteti observa si mai jos, merge.
Cu alcool merge orice!


Mai multe detalii gasiti pe Liveleak.