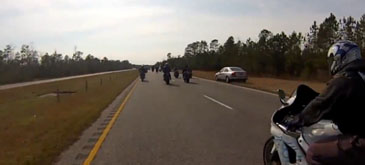 Roadrage Instant Karma

Some bike club riding on the highway – impatient female Volvo driver tries to pass them on the grass.
Eu chiar nu inteleg de ce pe unii soferi ii mananca uneori in fund. Chiar daca de aceasta data este vorba de o soferita mie tot nu mi-e clar. De ce sa recurgi la astfel de manevre, de ce sa iti supui masina la astfel de riscuri? Ai Casco? Are barba-tu' inca trei masini in garaj? Unde-i instinctul de conservare, credeam ca femeile sunt mai grijulii…..