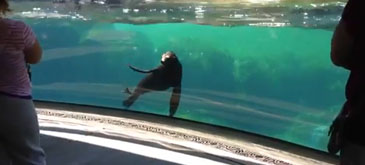 Sea Lion Worried About Little Girl ORIGINAL
This Sea Lion at the National Zoo in Washington DC was following this little girl for about 5 minutes and when she tripped he looked genuinely concerned. (Also, the little girl is holding a sea lion stuffed animal.)
Asa cum lesne putem deduce din descrierea de inceput, un leu de mare pare vadit ingrijorat dupa ce fetita de care nu si-a putut deslipi ochii timp de cinci minute, se impiedica si cade in fata geamului acvariului in care acesta inota de zor.