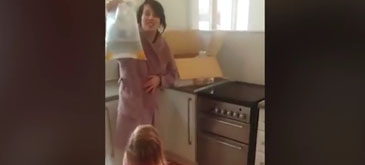 Mum orders table from eBay – gets 40 bags of fish
Mum shocked when she ordered a table and chairs from eBay – and received 40 bags of TROPICAL FISH
Becky Smith, 21, spent £184.95 on the stylish dining set from a seller on the online marketplace.
But when the delivery driver dropped off two large boxes at her home in Harold Hill, east London, on Wednesday, she was horrified to see she had mistakenly become the owner of around 150 live fish.
Stay-at-home-mum Becky feared she had mistakenly ordered the animals before a red-faced delivery driver came back later that day to apologise.
She said: "I went on eBay and ordered a six-chairs and a black and glass table. They said I would get it in two days' time.
"I answered the door they dropped it off. I took it in my house opened it and there was 40 bags of tropical fish. I was so shocked.
A comandat o masa si scaune si a primit in schimb 40 de pestisori. Asta da comanda gresita, vorba unui internaut "This sounds fishy to me." 🙂
thx to branco