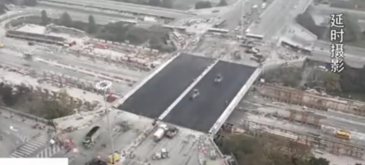 Beijing's Sanyuan Bridge to Be Retrofitted within 43 Hours.
he refurbishment of Beijing's Sanyuan Bridge, or Sanyuanqiao started at 11p.m. on Nov. 13, 2015. The whole reconstruction process completed within 24 hours.
Over 1300 tons of new surfacing for the bridge have been transported to the construction site to replace the old surface.
Sanyuan Bridge is a major overpass on the northeastern stretch of the 3rd Ring Road of Beijing. The Airport Expressway, Jingshun Road (China National Highway 101) and the 3rd Ring Road are interlinked by the vital overpass.
La o analiza mai atenta, parca as reformula un pic: asa fakuiesc chinezii un pod (doar sunt experti pe segmentul asta). 🙂 No comment! Asa arata un pod refurbished, sper sa aiba si garantie. 🙂
thx to branco