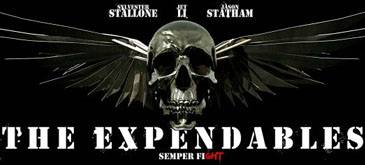 Sylvester Stallone gears up for a men-on-a-mission film with the Nu Image/Millennium Films war picture, The Expendables. Jason Statham and Jet Li co-star alongside the brawny filmmaker as a group of mercenaries who undertake a near-impossible operation to overthrow a dictator in South America. Mickey Rourke, Forest Whitaker, and UFC star Randy Couture co-star in the action-packed production.
Regia: Sylvester Stallone
Cu: Sylvester  Stallone, Bruce Willis, Arnold Schwarzenegger, Jason Statham, Jet Li, Dolph Lundgren, Steve Austin, Randy Coutre, Mickey Rourke.
De la aceasta mica petrecere – tinuta intr-un mic azil din America de Sud – lipsesc: Van Damme, Florin Piersic, Sergiu Nicolaescu  si Steven Segal.


[thx to mArS]