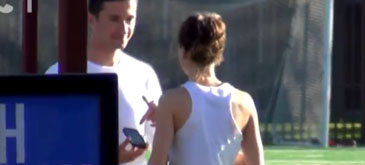 Getting Girls' Phone Numbers Without Talking
Silence is golden…
Put Your Number In My Phone Mute Style
Communication is 93% non-verbal, so let's just get rid of that extra 7%. We wanted to see if we could get girl's phone numbers without talking AT ALL.
Va mai aduceti aminte de prima postare? Atunci ne miram de usurinta cu care acele fete sunt agatate si cat de rapid isi dadeau numarul de telefon unui necunoscut. Iata ca asistam la un lucru si mai ciudat, lucrurile au luat-o la vale de-a dreptul. In episodul de astazi putem observa cum fetele isi dau numarul de telefon, nu la rugamintea/comanda tipilor ci – mai grav – doar la un semn.
Omg: